Shopping Cart
Your Cart is Empty
There was an error with PayPal
Click here to try again
Thank you for your business!
You should be receiving an order confirmation from Paypal shortly.
Exit Shopping Cart
Where we never compromise on taste or quality!
Check us out for spices, gift baskets, cookbooks and more!
| | |
| --- | --- |
| Posted on September 13, 2014 at 8:50 AM | |
Doesn't this just look amazing!!?? Well that is becuase pictures don't lie!
It is amazing and so easy to make I was surprised!
THE RECIPE and VIDEO BELOW...
As many of you know I only use GF Jules flour for my GF treats becuase I have found it acts
just like regular flour and tastes great! SO I decided to try out one of her recipes to test out these
cool non stick silicone baking mats I recieved. I typically use parchement paper but it is such a pain to
cut it out all the time and then have the edges burn which leave a horrid smell coming from your oven when
all you want to smell is fresh bread! So away I went cooking up this incredible bread.. and the truth be told
I was only making this bread because I really wanted some GF Angel food cake and I had a ton of left over egg yolks
so why not make bread? After all I have been making vats of soup and sauce from my tomato harvest (all to be seen on my
fb page https://www.facebook.com/apinchofgerman?fref=photo) and I was thinking bread will go great with our soup and spaghetti
week!
Here is Jules Recipe http://www.gfjules.com/gluten-free-challah-with-apples-raisins/#.U_X23fldWw8
I made mine without the fruit!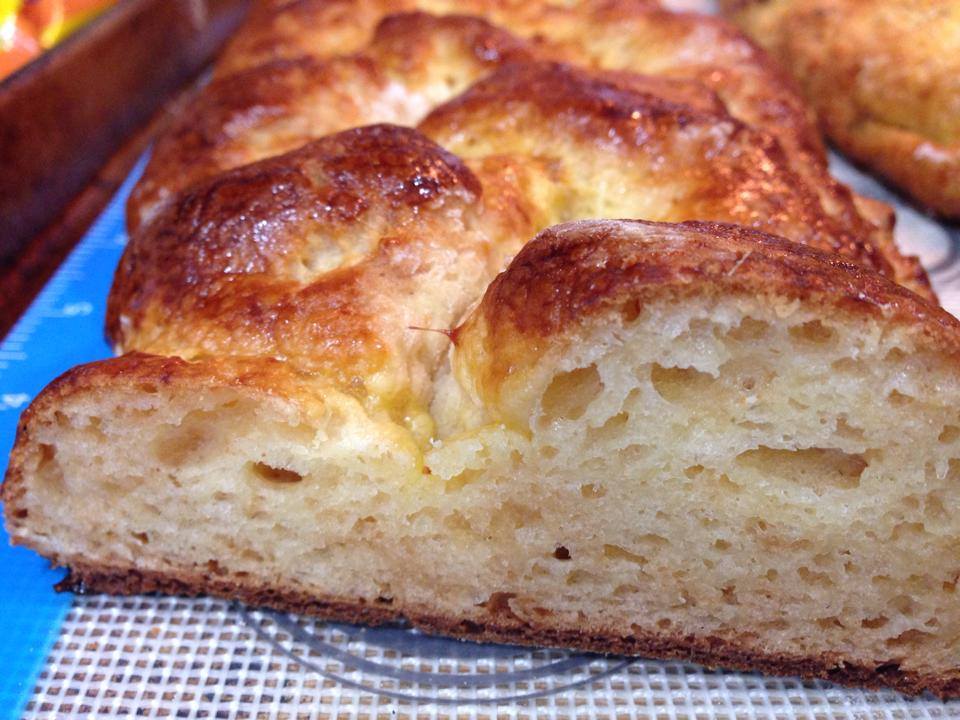 GF Challah
Ingredients:
•1/3 cup warm water
•1 package rapid rise gf yeast (Red Star®)
•1 tsp. granulated cane sugar
•1 cup vanilla dairy or non-dairy yogurt, at room temperature (So Delicious® Vanilla Coconut Yogurt)
•1 tsp. apple cider vinegar
•5 large egg yolks at room temperature (slightly mixed)
•1/3 cup vegetable oil
•4 Tbs. honey, agave nectar or molasses
•4 cups Jules Gluten Free™ All-Purpose Flour
•3 Tbs. + 2 tsp. granulated cane sugar
•1 1/4 tsp. kosher salt
•1/2 tsp. baking soda
•2 tsp. gluten-free baking powder
•1 large egg, mixed
•poppy seeds, sesame seeds, raisins, diced apples or other toppings (optional)
Preheat your oven to 200º F, then turn it off; if you have a warming drawer, you may set that to low/moist setting instead. Prepare a baking sheet by lining it with parchment paper.
In a small bowl, mix together the warm water, yeast and 1 teaspoon of sugar to proof the yeast; set aside. In the bowl of your stand mixer, add the remaining wet ingredients and mix until combined. Whisk together the dry ingredients in a separate bowl. After 5 minutes of proofing, stir in the yeast-water mixture into the wet ingredients (note: if your yeast isn't bubbling at this point, throw it out and start again with fresh yeast). Gradually stir in the dry ingredients until fully integrated, then mix 2 minutes more on medium speed.
Using either method, once the dough is combined, divide it in half and divide each half into three equal-sized balls (6 balls total). Roll each ball out into an 18-inch coil or log on a clean, flat surface dusted lightly with Jules Gluten Free™ All Purpose Flour. Pinch together one end of each coil, wetting them slightly with water to help them join together at the top, then braid them, finishing by connecting them to the top of the other end in order to form a long braid.
Gently transfer braid to the parchment-lined baking sheet. Repeat for the second set of three balls. You may divide the dough into as many balls as you like, counting on at least 3 balls per loaf. Roll each to equal lengths of coil and braid into 1, 2, or 4 loaves.
In a small bowl, mix the extra egg together with a splash of water and brush over each loaf well, coating the entire top surface. Sprinkle the fruit or any toppings at this point, then place the tray (covering the loaves with wax paper sprayed with cooking oil) in a warming drawer set to low heat, or into the preheated oven for at least 20 – 30 minutes.
Once risen at least slightly, place the uncovered tray in an oven preheated to 350º F (static) or 325º F (convection) for 20 minutes (less time for smaller loaves). Remove to cool on a wire rack.
Back to the mats.. did you know these are Certified FDA Approved?! That is pretty incredible! They are fun for the kids simple to use, they need no prepping and
made of fiber cloths covered with the best food grade silicone. They are non toxic and yup they are BPA FREE! I can't say enough of these and how easy it is to wash
just warm water and air to dry roll it and store it. Save on money buying that "other stuff"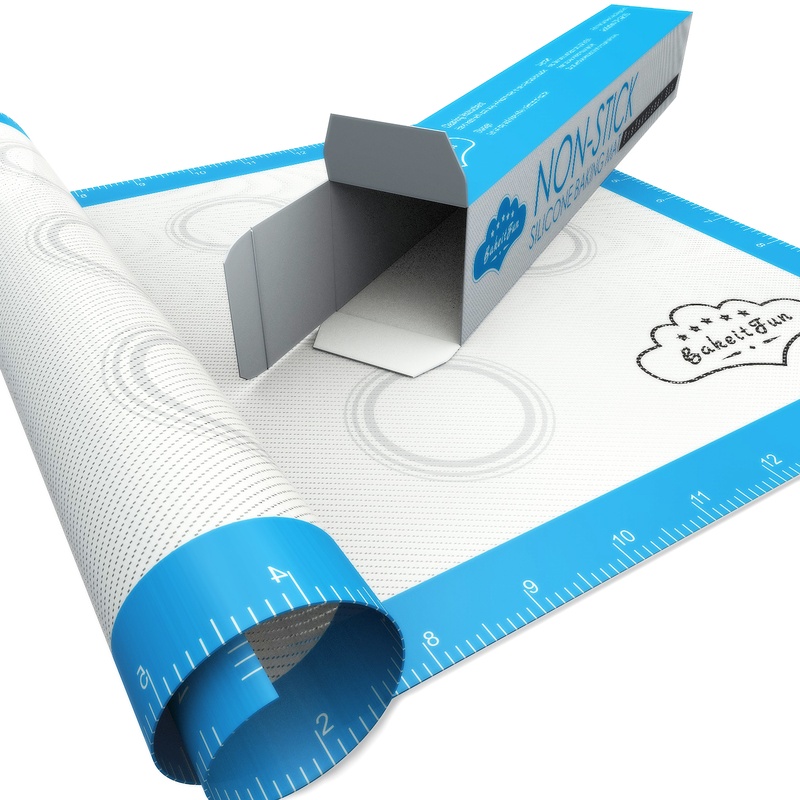 WANT ONE- GO HERE Baking Mat http://www.amazon.com/non-stick-silicone-baking-with-measurements/dp/b00kfujeno/ref=aag_m_pw_dp?ie=utf8&m=a1wfbju1enstgw&qid=1407904189&sr=8-29&keywords=baking+mat #bakingmat
And how amazing is this recipe and yes that angel food cake i mentioned - I'll be posting about that soon too! These mats are so easy to clean
flexible so they roll up to store easily. I use mine to sperate my pampered chef kitchen stones- less breakage that way haha.
Here are the facts on these mats- I highly recommend them they are so easy to use and reusable!
Non-Stick Silicone Baking Mat With Measurements - 420mm x 280mm (16-1/2" x 11") with Free Recipe eBook.
Toaster Oven & Freezer Safe - Cookie, Macaron & Pastry Sheet.
Perfect to use in oven, microwave or freezer - Takes up to -40F (-40 C) degrees to 450F (230 C) degrees - Flavors or odors will not penetrate the baking mat
Check out the video on how to put it together! https://www.youtube.com/playlist?list=PLOeLIc7Cu-VgVFsz7svBhmKGtX_Cnhz4E
I received one or more of the products mentioned above for free using Tomoson.com. Regardless, I only recommend products or services I use personally and believe will be good for my readers.

Categories: All Recipes, Reviews, Desserts
/