Shopping Cart
Your Cart is Empty
There was an error with PayPal
Click here to try again
Thank you for your business!
You should be receiving an order confirmation from Paypal shortly.
Exit Shopping Cart
Where we never compromise on taste or quality!
Check us out for spices, gift baskets, cookbooks and more!
| | |
| --- | --- |
| Posted on October 19, 2013 at 9:50 PM | |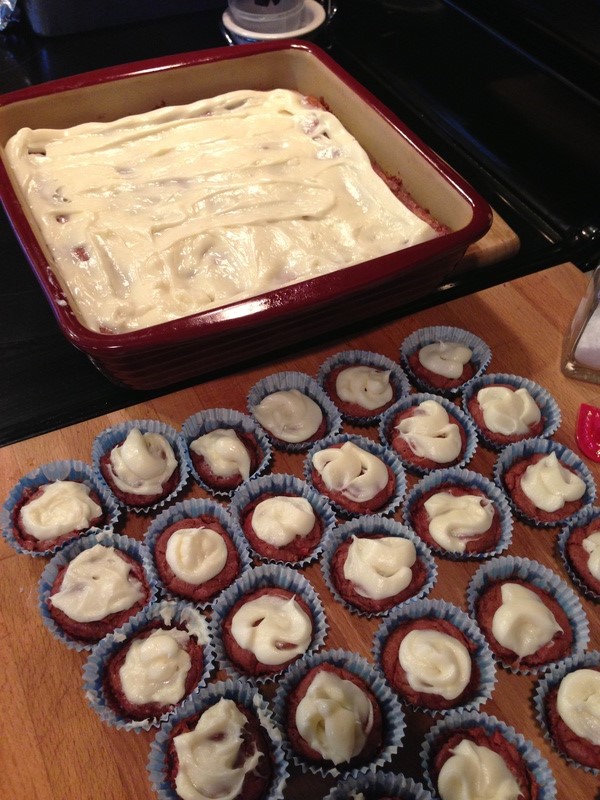 I haven't always been gluten free, it was an unfortunate discovery after I finished writing my first book! Funny thing is I never liked sweets until I became gluten free- how ironic that now I can't have them!  I also was never much of a baker while I was on the gluten trend!  Carbohydrates were my best friend especially Italian dishes!  You know what they say though- when a door closes, look around for the window!  Well that is kinda my life!  I have always loved cooking, so much so that I actually cook to cook - not to eat!  It is my passion, and to see the looks on the faces when taking their first bite brings me so much joy! I love to test new products and see what I can invent with them! 
This is one of my favorite gluten free cupcake recipes that I have made, maybe because it is red!
  OR... maybe it is the frosting!  Anyway you make it this is one of those dishes that will bring a smile to your unsuspecting guests!
Ingredients:
1/2 cup Jules gluten free flour (for the gluten free version) or for all others use all purposed unbleached flour
3/4 cup cocoa powder
1 teaspoon baking soda
1/2 teaspoon salt
1 cup butter, at room temperature
2 cups granulated sugar
4 eggs
1 ounce red food coloring
2 teaspoons vanilla
1/2 cup buttermilk preferably but I made it with regular milk
1 cup sour cream
½ cup chocolate chips
1 TBSP milk
Directions:
Preheat oven to 350. I used a Mini muffin pan, and a square cake stone. Also I tested this recipe with some cupcake liners that you put on a cookie sheet or you can Grease three 9 inch round pans. Either way these are fabulous! You can also fold in some chocolate at the end for an extra surprise – I cut up some lindt tuffles. AMAZING!
Get two bowls. One for the dry and a larger one and for the wet ingredients. In the dry bowl- Sift flour, salt and baking soda, cocoa powder together and set aside.
Melt semi-sweet chocolate with 1 tablespoon of milk. Set aside but do not let harden..
Beat butter and sugar in a bowl together for approximately 5 minutes at medium speed. Add eggs one at a time and beat until smooth. Add the food coloring and sour cream, milk, vanilla and melted chocolate. At low speed add flour mixture a little at a time but do not over mix. You will have a fluggy consistency when you are done. Scoop directly into the pan of your choice and cook in oven at 350. If you make the mini cupcakes do not overcook- they only take about 8 minutes.
For the cake Bake in 350 oven for 35 to 40 minutes or until wooden pick comes out clean.
Creamcheese Frosting
8oz cream cheese softened
½ Cup Butter (1 Stick) softened
2 Cups confectionary sugar
1 Tsp Vanilla
In a bowl whip the cream cheese and the butter together till smooth and add the vanilla and the confectionary sugar. Once your cupcakes/cake is cooled top with frosting!
My kids love to find the chocolate surprises in the middle!  Myself, I love the frosting!  Please let me know how your's comes out!!  Feel free to ask me questions, comment and get involved!  Love to hear from you!
Categories: All Recipes, Desserts
/